Rishi Sunak was guest of honour at a Major League Baseball game celebrating US-UK ties.
The Prime Minister watched Washington Nationals take on Arizona Diamondbacks during his trip to the US.
Fans were treated to a military flypast and both God Save the King and the Star Spangled Banner played by Royal Marines and US military bands.
Mr Sunak mingled with players before the game and wore a Nationals jacket as he was cheered onto the pitch – although Nationals Park was far from full.
The ceremonial first pitch at the UK-US Friendship Day was thrown by British army veteran Stuart Taylor after Downing Street rejected the idea of Mr Sunak throwing the ball in front of thousands of spectators.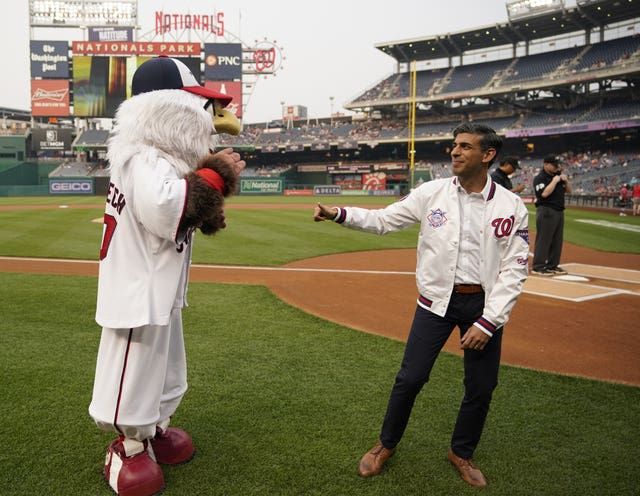 "These sorts of things are pitched to us from time to time but, at this event, the first pitch is going to be thrown by Stuart Taylor, who is the CEO of the Allied Forces Foundation," the Prime Minister's spokesman said.
"That, I think we felt, was the most appropriate way of highlighting the breadth and depth of the UK-US relationship, particularly focusing on service personnel and veterans."
After the pitch, Mr Sunak asked Mr Taylor: "How was that, quite good right?"