Smoke from Canadian wildfires poured into the US east coast and mid-west on Wednesday, covering the capitals of both nations in an unhealthy haze, holding up flights at major airports, postponing Major League Baseball games and prompting people to fish out pandemic-era face masks.
While Canadian officials asked other countries for additional help fighting more than 400 blazes nationwide that already have displaced 20,000 people, air quality with what the US rates as hazardous levels of pollution extended into central New York and north-eastern Pennsylvania.
Massive tongues of unhealthy air extended as far as North Carolina and Indiana, affecting millions of people.
"I can taste the air," Dr Ken Strumpf said in a Facebook post from Syracuse, New York, which was enveloped in an amber pall. The smoke, he later said by phone, even made him a bit dizzy.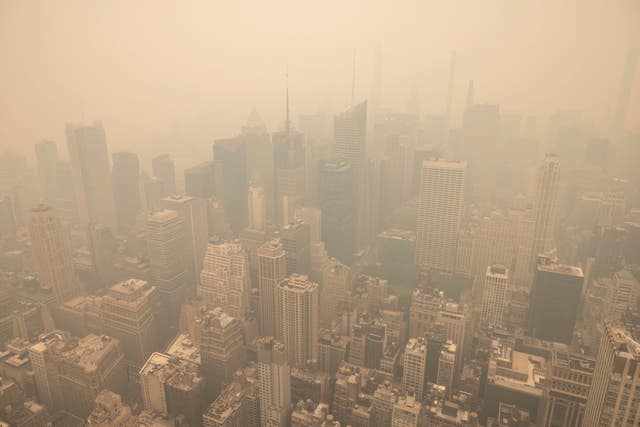 In Baltimore, Debbie Funk sported a blue surgical mask as she and husband, Jack Hughes, took their daily walk around Fort McHenry, a national monument overlooking the Patapsco River.
The air hung thick over the water, obscuring the horizon as distant ships pushed slowly through the haze.
"I walked outside this morning, and it was like a waft of smoke," said Ms Funk. She said the couple planned to stay inside later on Wednesday, as officials were urging.
Canadian officials say this is shaping up to be the nation's worst wildfire season ever. It started early on drier-than-usual ground and accelerated very quickly, exhausting firefighting resources across the country, fire and environmental officials said.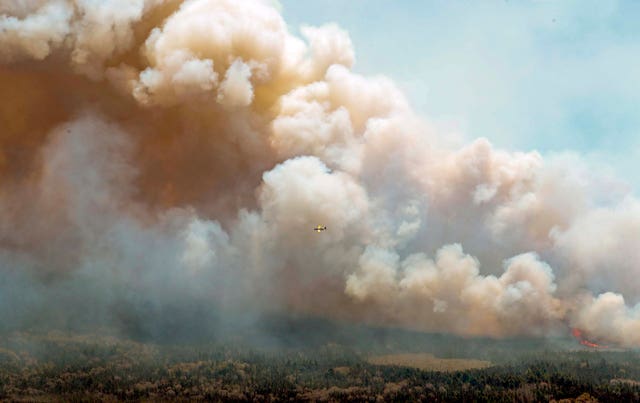 Smoke from the blazes in various parts of the country has been lapping into the US since last month but intensified with a recent spate of fires in Quebec, where about 100 were considered out of control on Wednesday.
"The smoke was insane" on Tuesday in Montreal, said resident Zachary Kamel, 36. "I had to close my window because the fresh air just smelled like campfire."
Quebec premier Francois Legault said the province currently has the capacity to fight about 40 fires – and the usual reinforcements from other provinces have been strained by conflagrations in Nova Scotia and elsewhere.
Canadian Interagency Forest Fire Centre spokesperson Jennifer Kamau said more than 950 firefighters and other personnel have already arrived from the US, Australia, New Zealand and South Africa, and more will be arriving soon.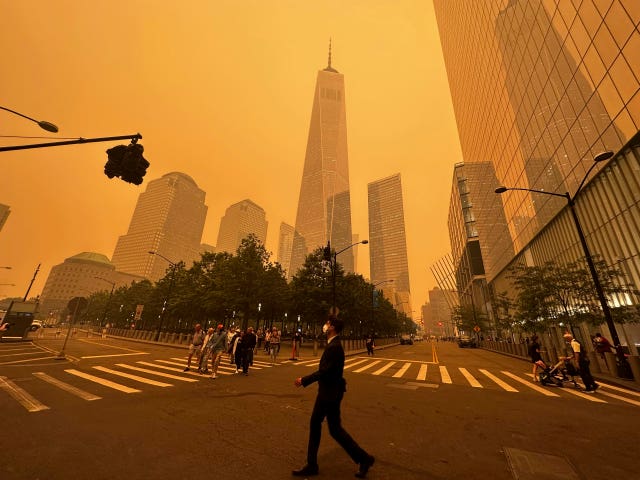 In Washington, White House press secretary Karine Jean-Pierre said President Joe Biden has sent more than 600 firefighters and equipment to Canada.
His administration has contacted some US governors and local officials about providing assistance, she said.
The largest town in Northern Quebec — Chibougamau, population about 7,500 — was evacuated on Tuesday, and Legault said the roughly 4,000 residents of the northern Cree town Mistissini would likely have to leave on Wednesday.
Eastern Quebec got some rain Wednesday, but Montreal-based Environment Canada meteorologist Simon Legault said no significant rain is expected for days in the remote areas of central Quebec where the wildfires are more intense.
U.S. National Weather Service meteorologist Zach Taylor said the current weather pattern in the central and eastern US is essentially funnelling in the smoke.
Some rain should help clear the air somewhat in the north east and mid-Atlantic this weekend or early next week, though more thorough relief will come from containing or extinguishing the fires, he noted.
Across the border, New York governor Kathy Hochul warned the public to "prepare for this over the long haul."
New York City mayor Eric Adams told residents of the United States' most populous city to limit outdoor activities and parks officials closed beaches as smoke smudged out the skyline.
The Federal Aviation Administration paused some flights bound for LaGuardia Airport and slowed planes to Newark Liberty and Philadelphia because the smoke was limiting visibility. It also contributed to delayed arrivals at Dulles International Airport outside Washington.
Major League Baseball put off games in New York and Philadelphia, and even an indoor WNBA game in Brooklyn was called off. The smoke even affected Broadway, where Killing Eve star Jodie Comer had difficulty breathing and left the matinee after 10 minutes; the show restarted with an understudy, show publicists said.