Leon Smith is expecting a highly motivated Switzerland on the other side of the net as Great Britain try to maintain their Davis Cup momentum in Manchester on Friday.
Britain began their campaign at a packed AO Arena on Wednesday with a 2-1 upset victory over last year's runners-up Australia.
That gave them a great chance of righting the wrongs of last year, when they were eliminated after only two matches of the group stage in Glasgow, and progressing to finals week in Malaga in November but there is still a lot of work to do.
Switzerland, led by three-time grand slam champion Stan Wawrinka, are already in the last-chance saloon having lost 3-0 to France in their opener on Tuesday.
"This is just the start, that's what we talked about," said captain Smith after watching debutant Jack Draper and Dan Evans pull off impressive wins against Thanasi Kokkinakis and Alex De Minaur, respectively.
"We've got a massive match on Friday against Switzerland, who obviously lost 3-0 so they're going to have to come out and do something.
"They're going to have high motivation and they'll be playing with a crowd this time, which obviously Stan wasn't happy with the other day."
Wawrinka took to social media to voice his dissatisfaction with the small turnout for their meeting against France but a similar crowd to Wednesday's 9,290 is expected on Friday.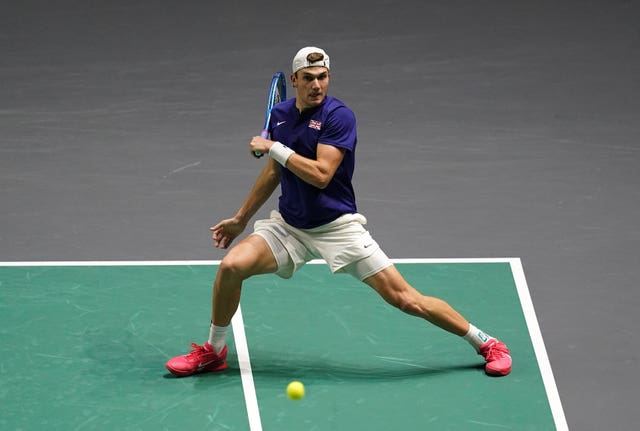 Given their performances against Australia, Evans and Draper are the front-runners to keep their singles spots ahead of top-ranked Cameron Norrie and Andy Murray, but Smith may yet spring another surprise.
Evans had a strong record against De Minaur but has lost all five meetings with Wawrinka, while Swiss number two Dominic Stricker beat fellow 21-year-old Draper at last year's Next Gen ATP Finals in their only previous match.
Smith welcomes the dilemma, though, adding: "People keep saying you've got really difficult selections – well, I'd rather that way to what it was many moons ago.
"I think it's great, I think it's testament to all the guys that everyone's playing at the top of their game.
"We've got to weigh everything up because people have played a lot of tennis as well, potentially look at match-ups, but we discuss it as a group and ultimately we'll make a call on it."
Draper has managed only 10 tournaments this season because of a succession of injuries, the latest of which to his left shoulder saw him retire at the French Open and then miss Wimbledon, dropping him out of the top 100.
But time on the sidelines has not affected the Londoner's ability to look like a top-10 player in the making and a run to the fourth-round of the US Open was his best yet at a grand slam.
"It's been an incredibly challenging year for me," he said. "I started the year at 38 in the world, everything was going great, and then just got hit by a load of injuries really. Maybe a few mistakes that I'll learn from and stuff I could have done better.
"The one before Wimbledon was a real blow, I couldn't play for a month or two, I spent loads of time in a bit of a rut trying to get out of it.
"I worked really hard to get myself back, I knew my time would come again because my tennis has always been there.
"New York was a massive boost for me, I needed it. Then coming here I've been really confident.
"It's all coming together so hopefully I can just keep on going to the end of the season and finish really strong."
Australia kept their hopes of qualification alive by coming from behind to defeat France 2-1.
Adrian Mannarino beat Max Purcell but De Minaur put Wednesday's disappointment behind him by defeating Ugo Humbert and Purcell and Matt Ebden claimed the deciding doubles rubber.
The result means qualification for the quarter-finals is likely to go down to Britain's final clash with France on Sunday.
In the other groups, being played across Europe, defending champions Canada claimed their second win while the Netherlands upset the US.