Goran Ivanisevic believes Novak Djokovic transcends tennis and is one of the greatest in the history of sport.
Djokovic won his 24th grand slam title when he beat Russian third seed Daniil Medvedev over three gruelling sets at the US Open.
His Croatian coach, Ivanisevic, says Djokovic's fighting spirit and will to win make him a sporting "genius".
"I don't think you can work on that," said 2001 Wimbledon champion Ivanisevic.
"You are born. You know, some people who are born, he's a genius. He's one of kind. There are not too many people in this world like him sport-wise.
"This is one of the biggest achievements in sports history. We're not talking about tennis. We are talking generally in sport.
"He's a winner. He's the guy who is motivating himself. He had luck to have guys like Rafa Nadal and Roger Federer, they came before him, so they pushed each other.
"But he's a born winner. For him, when you tell him he cannot do something, it's even worse. Then he's going to show you that he can do it. It's no excuses.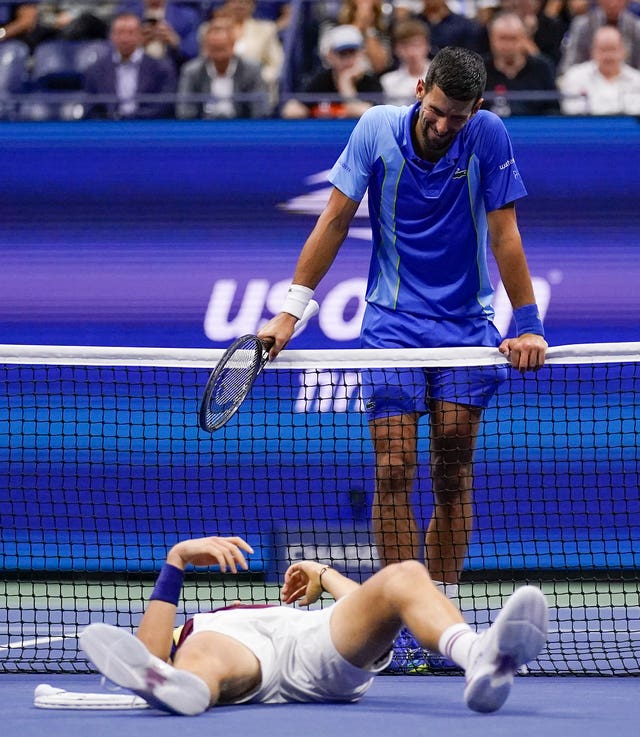 "He always tries to find a way to win, how to fight, even when he's not feeling well, injured, not injured.
"It's just something I cannot say that we're all like that from the Balkans, because we are not. But he's one of a kind, and that's why he's the best.
Banned from the US Open in 2022 due to Covid vaccination laws, Djokovic returned to become its oldest champion a year later.
The 36-year-old Serbian, back at world number one, avenged his defeat in the 2021 final against Medvedev.
He said: "I guess people love comeback stories. I love them too. They motivate me.
"I hadn't played any tournament on American soil for two years, and the last time I was here I lost in the finals against the same player I beat."
Djokovic has now won seven of the last 10 grand slams he has competed in despite the emergence of the likes of Medvedev, Carlos Alcaraz and Jannik Sinner.
"You need to reinvent yourself, because everyone else does," he added.
"As a 36-year-old competing with 20-year-olds I probably have to do it more than I have ever done it in order to keep my body in shape, in order to be able to recover so that I can perform on the highest level consistently."