Coco Gauff's day of destiny arrived as she came from a set down to beat Aryna Sabalenka and win the US Open.
The 19-year-old became the first American teenager to triumph at Flushing Meadows since Serena Williams in 1999.
Williams' final farewell to tennis at the same championships last year left a colossal void in tennis in the US.
So it felt only natural that Gauff, the heir apparent to the 23-time grand slam winner, stepped into her shoes 12 months later.
Sabalenka will be the new world number one on Monday after a remarkably consistent year in which she won the Australian Open and reached the semi-finals in Paris and at Wimbledon.
But that will be scant consolation for the 25-year-old from Belarus after she put herself in position to win her second grand slam title, only to fold as Gauff claimed her first, thrilling a raucous crowd with a memorable 2-6 6-3 6-2 victory.
Gauff said: "It means so much to me, I feel like I'm a little bit in shock. My French Open (final) loss was a heartbreak for me, and all the trials and tribulations make this moment all the sweeter for me.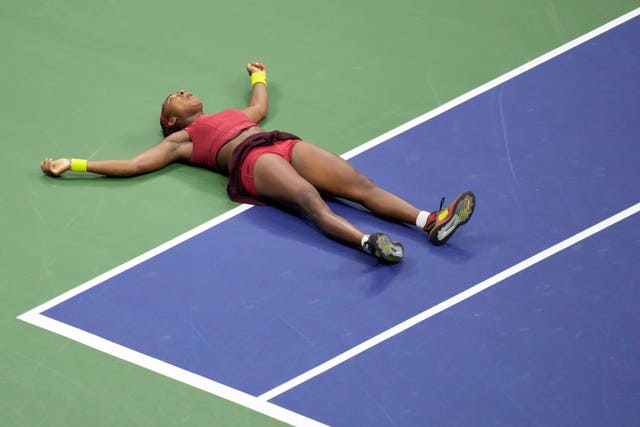 "I just knew if I didn't give it my all I had no shot at winning. Aryna is an incredible player and deserves to be number one.
"Today was the first time I ever saw my dad cry. He thinks he's so hard but…he took took me to this tournament when I was young to watch Serena and Venus (Williams) compete, so it's incredible to be on this stage.
"Thank you to the people who didn't believe in me. I'm here with this trophy now. Those who thought they were putting water on my fire, they were putting gas on it and I'm burning so bright now."
The pattern of the match was set out early on, Sabalenka hitting the ball incredibly hard and Gauff chasing after it.
Sabalenka's unforced error count kept Gauff interested in the early stages, but once she settled her firepower saw her race off with the opening set.
Gauff saved two break points after twice double-faulting at the start of the second.
But it was double fault from the racket of Sabalenka, just after Gauff had the crowd inside Arthur Ashe on its feet with a stunning cross-court backhand winner, which gave the sixth seed a way back into the match.
Gauff saved a break point to lead 4-1 before Sabalenka held with the shot of the match.
Chasing a lob to the back of the court and with her back to Gauff, she sent the ball high over her opponent and right into the corner.
But it was Gauff who was in control and extracting more errors from the second seed as she confidently levelled the match.
Gauff's incessant scrambling had Sabalenka scrambled and she broke twice at the start of the third.
Sabalenka took a medical time-out at 4-1 behind and immediately retrieved a break only for Gauff to hit straight back, almost taking the closed roof off Ashe.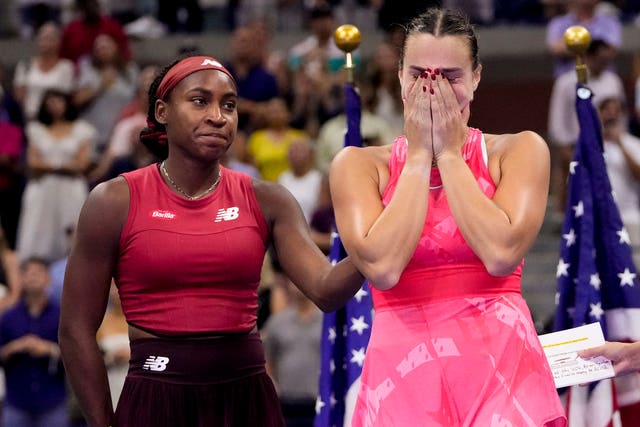 A confident hold of serve later and she was the champion, the enormity of which hit Gauff almost immediately as she wept tears of joy before racing into the stands to celebrate her stunning achievement with her ecstatic family.
A tearful Sabalenka said: "I'm most proud I was able to handle my emotions most of the time this year, and focus on myself and not on my ranking.
"I felt the love through this couple of weeks. Coco played unbelievably and deserves the title."