Novak Djokovic won the Western and Southern Open for the third time in Cincinnati, beating Wimbledon champion Carlos Alcaraz in a thriller with tiebreaks deciding the last two sets.
The top two players in the world went head to head in a rematch of last month's Wimbledon final but this time Djokovic emerged with a 5-7 7-6 (7) 7-6 (4) victory.
Djokovic, 36, said on court the nearly four-hour match was one of the toughest matches he has played in.
He said: "Crazy. Honestly, I don't know what else I can say.
"Tough to describe, (it's) definitely one of the toughest matches I've ever played in my life, regardless what tournament, what category, what level, what player.
"From the beginning until the end we've both been through so much, so many ups and downs, highs and lows, incredible points, poor games, heat strokes, coming back."
Alcaraz, 20, came from a break down to win a tense first set, with one backhand winner in the seventh game earning the applause of his opponent.
But Djokovic refused to go away, despite being down 4-2 in the second set and defending a championship point.
The 23-time Grand Slam champion came back to take the set in a thrilling tiebreak.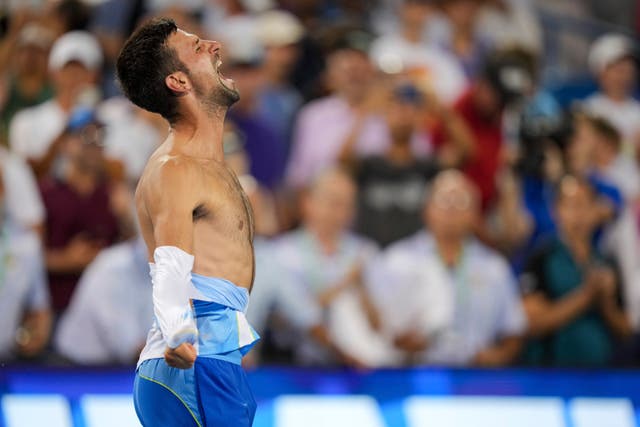 The last set went to the wire as Alcaraz came back from 5-3 down, saving multiple championship points to force the tiebreak.
But the relentless Djokovic dominated the tiebreak and sealed the victory on his fifth championship point of the match.
He fell to the floor after the final point and ripped open his shirt as he celebrated winning his 39th Masters title.
The tournament is a precursor to the US Open which begins on August 28, with Djokovic bidding for a 24th Grand Slam title.