Lewis Hamilton apologised to Mercedes after a poor start at the Hungarian Grand Prix allowed Max Verstappen to rack up another win.
Verstappen gazumped pole-sitter Hamilton on the downhill run to the opening corner at the Hungaroring before racing off into the distance to score his seventh successive victory of this most one-sided of Formula One seasons.
Hamilton finished a disappointing fourth after both McLaren drivers also moved ahead of him inside the first two bends of Sunday's 70-lap race.
Lando Norris was runner-up to Verstappen for the second consecutive race, 33.7 seconds behind the dominant Dutchman, while Sergio Perez fought back from ninth to third with Oscar Piastri crossing the line in fifth.
Verstappen's ninth win from the 11 rounds so far, and 18th from his last 22 outings, sees him extend his championship lead to three figures, moving 110 points clear of Perez, heading into next weekend's concluding round before the summer break in Belgium. Red Bull remain unbeaten this season, setting a new Formula One record with their 12th consecutive win in a row.
Twenty-four hours after he ended a 595-day wait for pole position, Hamilton's challenge to end a losing streak which now stands at 34 races was over after a few hundred metres.
Hamilton's initial reaction to the lights turning green was fine, but he struggled for traction in the next phase, with Verstappen moving alongside the Mercedes and then ahead under braking for the first right-hander.
Hamilton, sharing the front row with Verstappen for the first time since he was denied a record eighth world title in the desert, could do nothing to prevent Verstappen barging his way through.
Forced wide by Verstappen, Hamilton then lost two further positions. First to Piastri at the same right-hander, before Norris also muscled his way ahead of the seven-time world champion around the outside of the next bend. Hamilton had a nibble back at his countryman on the long run up to Turn 4 but Norris held firm.
A contrite Hamilton was straight on the radio. "Sorry about that, guys," he said. "Don't sweat about it, Lewis," came the reply from Hamilton's ever-upbeat race engineer, Peter Bonnington. "It is going to be a long race."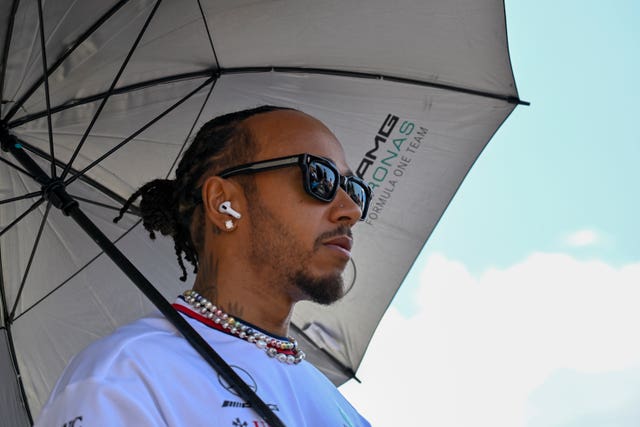 Further back, and a slow-starting Zhou Guanyu mimicked a ten-pin bowling ball when he bumped into the returning Daniel Ricciardo, who hit Esteban Ocon, who in turn collided with Alpine team-mate Pierre Gasly. Zhou was given a five-second penalty as both Alpines were unable to continue on a disastrous afternoon for the French team.
As Verstappen did what Verstappen does and controlled the race to perfection, Hamilton was struggling for speed. He questioned if his Mercedes team had turned down his engine after falling a dozen seconds back from Verstappen by the time he stopped for fresh rubber on lap 16.
He then expressed his exasperation at being cast more than 10 seconds behind third-placed Piastri, the Australian dropping behind team-mate Norris at the first round of stops.
"Where am I losing all the time?" he asked, adding: "It is just the car is slow."
Perez started ninth following another below-par qualifying, but by lap 40 he was crawling all over the back of Hamilton's Mercedes. To his credit, the Briton held off Perez before the Red Bull man dived into the pits.
Bonnington called on Hamilton to pick up the pace. But the despondent 38-year-old replied: "This is as fast as it goes, mate. That is what I have been saying."
When he finally stopped for rubber for a second time with 20 laps to run, Hamilton dropped to fifth, with Perez now running in third after fighting his way past Piastri.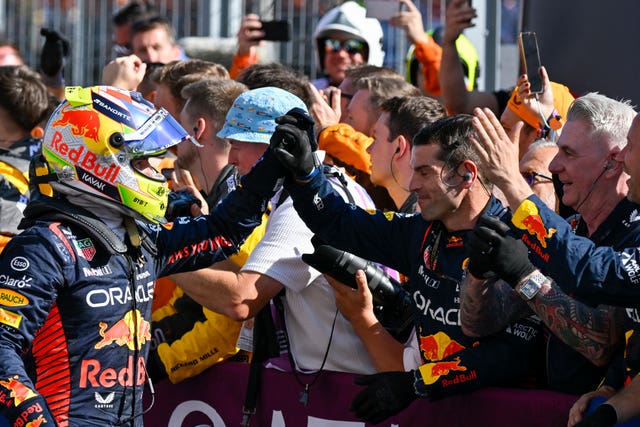 Piastri was suddenly struggling for speed and Hamilton wiped out a six-second deficit to the Australian inside a handful of laps and at the start of 57 he breezed past the McLaren man at the first corner.
Hamilton set about hunting down Perez, wiping out significant chunks of time in the closing laps, without getting close enough to challenge, crossing the line 1.5 seconds back from the Mexican and 39 behind Verstappen.
Charles Leclerc finished sixth while George Russell, who started 18th, passed Carlos Sainz for seventh with five laps remaining. The Briton was then bumped up one place after Leclerc was penalised five seconds for speeding in the pit lane.
On his first race back in the saddle after being dumped by McLaren at the end of last season, Ricciardo – despite slipping to last after Zhou's first-corner antics – finished a commendable 13th in his AlphaTauri.