Carlos Alcaraz was crowned the new king of Wimbledon after dethroning Novak Djokovic on a rapt Centre Court in one of the great grand slam finals.
The young Spaniard looked to be on his way to victory when he recovered from a nervous start to take a two-sets-to-one lead only for Djokovic to show once again his remarkable powers of resilience.
It was he who appeared in the ascendancy at the start of the fifth set but back came 20-year-old Alcaraz to claim a 1-6 7-6 (6) 6-1 3-6 6-4 victory after four hours and 42 minutes, finally landing a meaningful blow for the young guns against the man 16 years his senior.
Alcaraz slumped to the court after Djokovic's final forehand dropped into the net before sharing a long embrace with the vanquished Serbian.
The defeat prevented Djokovic tying Roger Federer with an eighth Wimbledon title, while it also ended his chances of winning the calendar Grand Slam this year, although he will surely have more opportunities to equal Margaret Court's all-time record of 24 slam crowns.
Alcaraz was not even born when Lleyton Hewitt in 2002 became the last man apart from Roger Federer, Rafael Nadal, Andy Murray or Djokovic to win the title here, and he is the youngest men's champion since Boris Becker in 1986.
This was the hottest ticket in town. Along with the Prince and Princess of Wales, Prince George and Princess Charlotte and King Felipe VI of Spain, Hollywood stars Brad Pitt, Hugh Jackman and Daniel Craig were attendance while, among the tennis ranks, sat in the stands with new men's doubles champion Neal Skupski, was Murray.
The Scot was the last man to beat Djokovic on this court, 10 years and 46 matches ago, in that unforgettable final.
No one had got close this fortnight but there was a feeling right from the start of the Championships that it would come down to a meeting between the two players who sit head and shoulders above the rest.
Not that a contest looked on the cards for half an hour as Alcaraz snatched at shots and Djokovic carved him apart, winning the first five games and then the opening set.
But the Spaniard settled at the start of the second and, although an early break of serve was cancelled out straight away by Djokovic, Alcaraz had largely cut out the unforced errors and was asking real questions.
Most of the time Djokovic had the answers, Alcaraz standing with hands on hips after another break point at 1-2 was snatched away in a 29-shot rally.
Unlike for the women's final, the roof was open, but conditions were still blustery and the crowd, which was predictably largely behind Alcaraz, was becoming irritated by the number of times Djokovic was bouncing the ball before serving.
"Get on with it," came a shout from the stands, but it was an indication that Djokovic was feeling tension as Alcaraz pushed for a break.
It did not come in a close game at 4-5 and, when Djokovic moved into a 3-0 lead in the tie-break, it appeared a two-set lead, and probably the match, was close.
But two big serves from Alcaraz were followed by a netted drop shot from Djokovic and the Spaniard was back on terms.
Umpire Fergus Murphy's patience ran out at 4-5 in the tie-break and he gave Djokovic a time violation, to much cheering from the crowd.
He still won the next two points but unusually Djokovic netted a backhand on his set point and then did the same the following point before seeing a return fly past him.
As Alcaraz turned to the fans in celebration, Djokovic returned disconsolately to his chair, where he sat shaking his head in the direction of his box, his run of 15 straight slam tie-breaks won ending at the worst moment.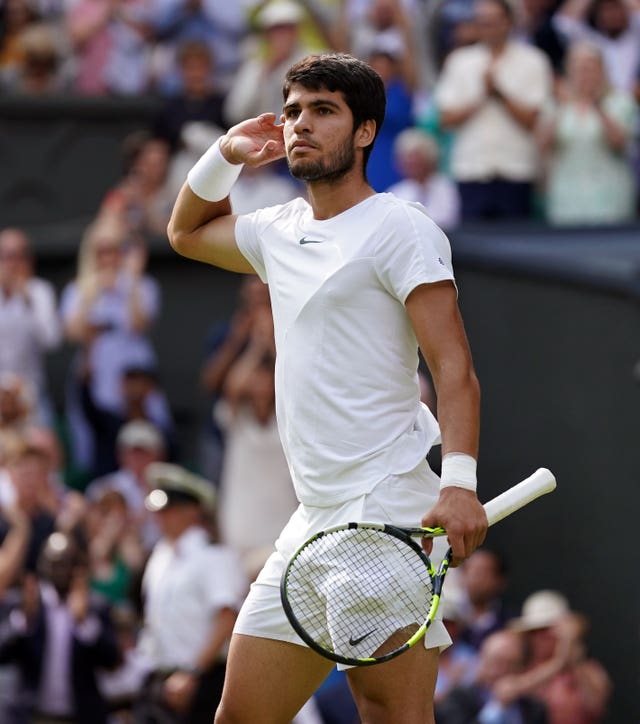 It felt like a huge moment, and even more so when Alcaraz broke serve to start the third set, taking the lead in the match for the first time.
Djokovic complained to Murphy that he was not being given enough time to get to his towel at the back of the court between serves during a remarkable 26-minute fifth game featuring 13 deuces and seven break points – at 32 points, the longest in a Wimbledon men's singles final.
On the last of those, Djokovic's resistance gave way, and the 36-year-old was beginning to look distinctly less sprightly than his opponent, virtually giving away two games before he headed off court for a long bathroom break.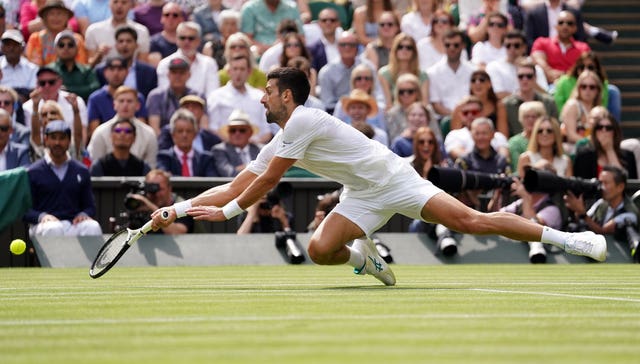 There were boos on his return, with Alcaraz standing ready to serve for several minutes. Both men knew how important the start of the fourth set was and Djokovic, who had tape on his left thigh, dug in to save two break points.
The Serbian has shown many times in his career, though, that when he looks down and out is when he is at his most dangerous, and so it proved again.
Alcaraz paid for a simple volley placed into the tramlines as Djokovic broke to lead 3-2, and the defending champion looked mentally and physically sharp again as he set up a decider.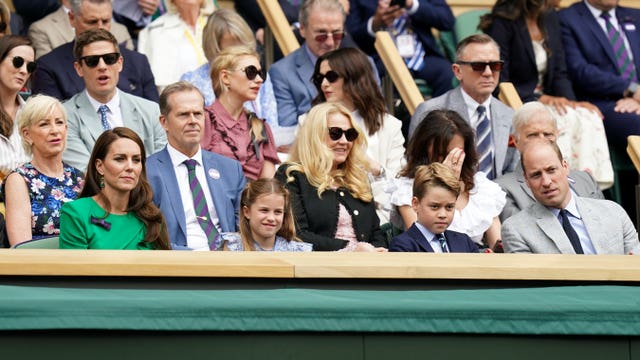 Had Djokovic put away an apparently simple overhead to break for 2-0, he may well have walked away with the trophy again, but he netted it and instead it was Alcaraz who broke for a 2-1 lead.
Djokovic hurled his racket against the net post in frustration, shattering the frame and earning more boos, with another hole now to dig himself out of.
But this time he could not and Alcaraz, with the touch and courage of a true champion, seized his moment.