Novak Djokovic hopes to show Wimbledon's poster boy for the future Jannik Sinner that he is not ready to give up his Centre Court crown just yet.
The 36-year-old is gunning for a fifth straight title in SW19, which would move him level with record-holder Roger Federer on eight, but must first get past Sinner in Friday's semi-final.
The Italian, 21, featured prominently in an official pre-tournament poster alongside Carlos Alcaraz as the future of the Championships. His presence on illustrator Grant Gruenhaupt's artwork raised eyebrows but he is living up to the hype after reaching his first grand slam semi-final.
Djokovic rates Sinner as a future star, but the Serbian is motivated to reach yet another final.
"He's playing on a very high level. He likes to play on grass," Djokovic said.
"He likes to play on quick surfaces because he likes to be aggressive and take control of the point. From both forehand and backhand, he's smashing the ball really, really hard, trying to be the one that is going to dictate the point from early on. I know his game well.
"He's so young, so of course it's expected that he's going to improve. He is improving, no doubt, I think with the serve. He's been serving better. On grass, obviously makes a difference.
"He's a very complete player. Now first time in semis of Wimbledon. I'm looking forward to that challenge. I'm sure that he's going to be very, very motivated to win. On the other hand, I am, too."
Sinner will have bad memories of playing Djokovic at Wimbledon after losing in last year's quarter-final, having gone two sets up.
Asked what he took from that experience, he replied smiling: "First of all, you have to go up two sets to love.
"In the other way, it's going to be a completely different match than last year. He knows me better as I know him better also. It's going to be also a little bit tactical.
"In the other way, it is also a little bit mental, no? If you play against Novak, it's always tough to play here, especially on grand slams.
"It's for sure one of the toughest, if not the toughest, challenge in front of me. He has won 23 grand slams. Won Australia, won Paris. He is in a huge confidence boost also.
"It's going to be tough, but I will obviously try my best. Last year I played a very good match against him. I have learned about it."
Daniil Medvedev could provide Russian presence on finals weekend if he gets past world number one Alcaraz.
Medvedev was banned from playing in last year's tournament, but has returned in style, flying under the radar to his first Wimbledon semi-final.
Despite the situation with Russia's invasion of Ukraine, Medvedev says he has felt the support from the crowd.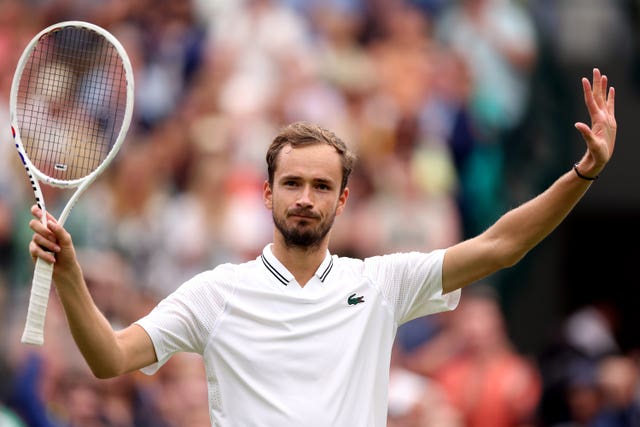 "It's been amazing," he said. "It's been amazing. Let's see how it is on Centre Court because so far I have been playing only on Court One. I think it's going to be the same. It's going to be amazing to play Carlos next.
Alcaraz will provide his toughest test yet as the Spaniard is playing well enough to suggest that Centre Court could become a very happy hunting ground in the future.
On reaching the last four, Alcaraz said: "It's a dream for me. It's a dream for me to be able to play semi-final here in Wimbledon.
"I'm going to say, Medvedev's an octopus. He catches every ball. It is amazing. He's an amazing athlete."