The Australian prime minister has said he is "proud" of his country's cricket team after Jonny Bairstow's dismissal sparked controversy in the Ashes series against England.
Anthony Albanese, in a tongue-in-cheek swipe at his British counterpart Rishi Sunak, said Australia was "right behind" the men's and the women's cricket teams, who have both been successful in the opening games of their UK tour.
Australia's leader tweeted: "Same old Aussies – always winning!"
It comes after Mr Sunak, who was at Lord's on Saturday for the second men's Test, accused the Australian team of breaking the spirit of the game with the dismissal of Bairstow.
The England batter was stumped in bizarre circumstances on a tense final day on Sunday.
Australian wicketkeeper Alex Carey threw down the stumps after Bairstow ducked the final ball of the over and set off to talk to partner Ben Stokes in the apparent belief the over had ended.
The Prime Minister's official spokesman said Mr Sunak, a keen cricket fan, agreed with the views of England captain Stokes about the incident, confirming he "wouldn't want to win a game in the manner Australia did".
Asked whether Mr Sunak believed Australia's actions were not in keeping with the spirit of cricket, his spokesman said: "Yes."
But Mr Albanese made clear that Australian captain Pat Cummins and his team had Canberra's backing.
"I'm proud of our men's and women's cricket teams, who have both won their opening two Ashes matches against England," he posted on Twitter.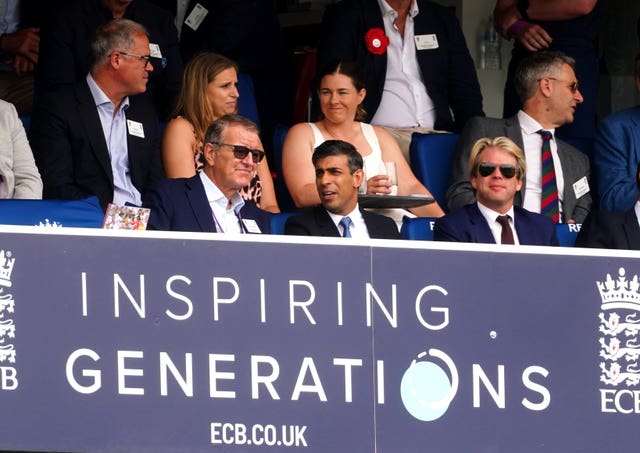 "Australia is right behind Alyssa Healy (and) Pat Cummins and their teams and look forward to welcoming them home victorious."
Anger in the crowd at the manner of Bairstow's exit spilled over in the usually restrained Long Room at Lord's, where Australian players Usman Khawaja and David Warner were involved in heated exchanges with jeering members – three of whom were later suspended by Marylebone Cricket Club (MCC).
The row is expected to produce a lively atmosphere when the third Test of the men's series gets under way at Headingley in Leeds on Thursday, as England look to halve the deficit against their rivals.
Veterans minister Johnny Mercer said England should not expect "fair play" from Australia as he urged the players on in the next contest.
Mr Mercer told Sky News: "It wasn't actually cheating this time. Previously they did the whole sandpaper thing and when they got caught they were crying all over the media.
"I don't think you're going to get any particular fair play out of these.
"I think you've just got to give them a good pasting when you get the chance, and I hope that happens at the next Test match."