Visitors are being urged to "fill yer boots" with entertainment this summer as the Edinburgh Festival Fringe unveiled its programme of more than 3,000 shows.
Famous faces including Sir Cliff Richard, TV presenter Gail Porter and film director Ken Loach will be among those appearing during the course of the festival this August.
Politicians including Scotland's First Minister Humza Yousaf, Welsh First Minister Mark Drakeford, Liberal Democrat leader Sir Ed Davey and Greater Manchester Mayor Andy Burnham will be some of those taking part in onstage interviews.
The programme features 3,013 shows tackling themes including mental health, gender and gender identity, neurodiversity, race, class, climate action and the NHS, with performers coming from across the globe.
Shows will take place in 248 venues, including unusual ones such as a swimming pool, a boxing club and stand-up sets by Armed Forces veterans in Lady Haig's Poppy Factory.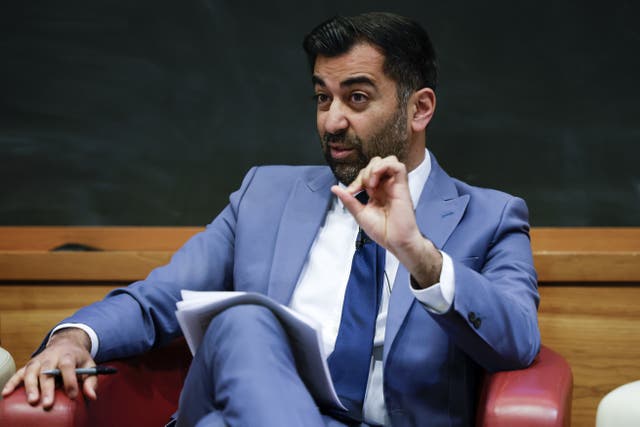 Shona McCarthy, chief executive of the Edinburgh Festival Fringe Society, said: "Getting the programme out into the world is such an important moment for everyone involved in the Fringe, and most of all for the thousands of artists coming to Edinburgh this August.
"The ideas, originality and passion that performers bring to Fringe stages every year is testament to the role that Edinburgh plays in celebrating and promoting their work to the world.
"The Fringe 23 programme is bursting with every kind of live performance, so whether theatre premieres are your thing, or the best of live comedy, street arts or circus, jump straight in and fill yer boots with as much as you can.
"To all the artists, venues, workers, technicians, promoters and support staff, thank-you for making it happen, we wish you a wonderful Fringe.
"To Edinburgh's local business community, we thank you for your continued support, and to Edinburgh and Scotland's residents who come out in their thousands, and all our Fringe-goers who keep this phenomenal event relevant and sustained by coming to see the work, we can't wait to explore the Fringe programme with you this August."
The programme, which has the marketing theme "Fill Yer Boots", includes theatre, dance, circus, physical theatre, comedy, music, musicals, opera, cabaret, variety, children's shows, exhibitions and spoken word events.
Christopher Biggins will host cabaret and chat at The Fringe at Prestonfield, with guests including Sir Cliff, Gloria Hunniford and Janey Godley.
Porter will share stories of her "mental life and mental mind" in Hung, Drawn And Portered at the Assembly venue, while film director Loach will appear twice at The Stand's New Town Theatre.
Elsewhere, in Deaf Action Presents: Red Aphrodite by Amy Murray, the star of Netflix series The Witcher: Blood Origin, aims to "break down all the taboos about womanhood" while using British Sign Language.
At Pleasance, broadcaster Iain Dale will invite a roster of political figures to join him for onstage interviews, including the Scottish and Welsh First Ministers and others including Scottish Labour leader Anas Sarwar, former Scottish finance secretary Kate Forbes and Labour MP Harriet Harman.
This summer marks the 10th anniversary of the year Fringe Society president Phoebe Waller-Bridge's Fringe show Fleabag debuted at the event in August 2013, going on to be adapted into a hit BBC sitcom and winning a host of awards.
She said: "I am so proud to continue to be a part of this phenomenal event, 10 years after Fleabag premiered there.
"This programme will hit the Fringe with the creative wildness, political provocation and huge cultural impact that the festival delivers year after year, at a time when we need it most.
"We need help processing what the hell is going on in the world, as well as being treated with the imaginative escape that only the immersive experience of the Fringe can provide.
"Whether your appetite is for theatre, dance, music, circus or street performing, August in Edinburgh will have it all. The only thing it needs now is you."
There are 308 free shows and 463 labelled "pay what you can/want" at this year's festival, which runs from August 4 to 28.