West Ham United supporters were attacked by Fiorentina fans ahead of the Europa Conference League final in Prague, Czech police said, as witnesses claimed the Italians were armed with "chains and belt buckles".
Czech police detained several people following the clash outside the Tek'ila Tek'ila bar in the city centre ahead of the match on Wednesday.
It comes as thousands of West Ham fans have flocked to the Czech capital, with many of them unable to secure tickets to the final. 
Despite a fan zone being open in nearby Letna Park, large groups of fans have gathered in the centre of Prague's Old Town to watch the match in local bars.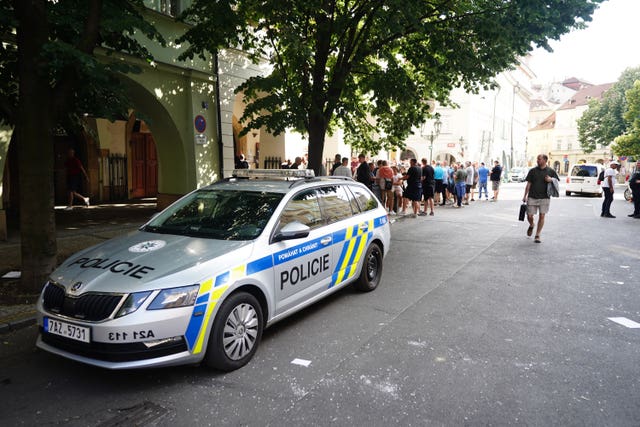 Fans of the Italian side are said to have thrown flares and firecrackers as they approached the West Ham supporters.
A 17-year-old witness said: "They had chains and belt buckles and everything. They come here, try giving it, and then they ran down the road."
Following the clash, 16 people were detained as police "restricted the personal freedom" of those suspected to be involved.
Czech police said that three people had been injured during the incident, while a police officer had also been attacked.
A translation of a Czech police tweet said: "Italy fans attacked West Ham fans in a bar in Rytirska Street, injuring three. One policeman was also attacked. We have restricted the personal freedom of 16 people and we are currently investigating the whole incident."
Tens of thousands of West Ham and Fiorentina fans have travelled to Prague for the game despite both clubs only having an official allocation of 5,000 tickets each for the Fortuna Arena, which has a capacity of around 19,300.
Many have flocked to bars, cafes and pubs to watch the match on television while others have gathered outside the stadium in an effort to secure last-minute tickets.
At the scene of the clash, a burnt-out chair and broken glass were seen littered across the ground.
One West Ham fan, who did not want to be named, said "a large group" of Italian fans attacked the bar.
"About eight Italians walked past, swinging bands and chains," he said.
He added: "Five minutes later there was a big group that came down the road and attacked us."
The man said five West Ham fans were injured.
He said: "Three of our mates (were injured), out of all of this lot there were five. Three of them were our mates. They've gone to hospital."
He added that one of his friends was "quite badly" injured with a "massive cut" on his head.
Videos were also shared on social media appearing to show people throwing chairs at each other in Prague on Wednesday.