The Duke of Sussex said the press has "misled me and covered up the wrongdoing" for his whole life and went to "extreme lengths to cover their tracks", as the High Court heard his claim against the publisher of the Daily Mirror.
Harry left the witness box on Wednesday afternoon after nearly eight hours of questioning as part of his legal action against Mirror Group Newspapers (MGN) over alleged unlawful information gathering.
Near the end of his evidence – which made him the first senior royal in more than two decades to appear personally in court proceedings – he appeared to show some emotion as he was asked how the court process had made him feel.
His barrister David Sherborne asked: "Prince Harry, you have been in that witness box for over a day and a half.
"You have had to go through these articles and answer questions knowing this is a very public courtroom and the world's media are watching. How has that made you feel?"
After a long pause, in which he appeared emotional, the duke eventually answered: "Erm, it's a lot."
After a few additional questions from the judge, Harry let out a deep sigh before he sat down among his legal team as he left the witness box of Court 15 at about 2.30pm.
The duke, 38, is suing MGN for damages, claiming journalists at its titles – which also include the Sunday Mirror and Sunday People – were linked to methods including phone hacking, so-called "blagging" or gaining information by deception, and use of private investigators for unlawful activities.
He alleges that about 140 articles published between 1996 and 2010 by MGN titles contained information gathered using unlawful methods, and 33 have been selected to be considered at the trial.
During his evidence, Harry repeatedly denied suggestions by Andrew Green KC, for MGN, that he had engaged in "total speculation" in his allegations of unlawful information gathering by the publisher.
"The terminology of entering the realm of total speculation was used a few times by Mr Green," the duke later said, adding there was "hard evidence" in his case.
The duke said: "For my whole life the press has misled me and covered up the wrongdoing.
"For me to be sitting here in court knowing the defence has the evidence in front of them, and Mr Green suggesting I'm speculating, I'm not entirely sure what to say."
Harry earlier told the High Court in London that hacking him would have been "an incredibly risky thing to do".
In his written evidence, the duke said the alleged hacking of his phone "presented very real security concerns for not only me but also everyone around me".
Mr Sherborne asked whether he meant no one would have hacked him as a result.
Harry replied: "No, I believe they would have gone to extreme lengths to cover their tracks."
The duke also made references to the alleged destruction of evidence and the use of so-called burner phones.
Shortly before Harry left the witness box, Mr Justice Fancourt – the judge in the case – asked some additional questions about when he first experienced unusual activity in relation to his voicemails.
The duke replied: "From the moment I had a mobile phone. It never stopped."
Harry previously said he believed phone hacking was carried out on an "industrial scale at at least three of the papers at the time … that is beyond any doubt".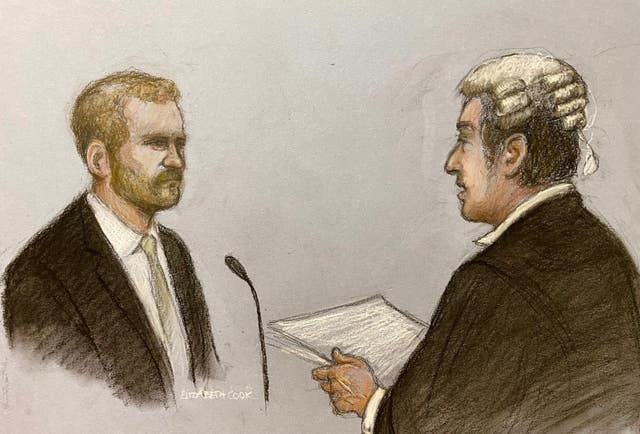 He continued: "To have a decision against me and any of the other people (bringing a claim), given that Mirror Group have admitted hacking, yes I would feel some injustice … if it wasn't accepted."
Mr Green asked: "So you want to have been phone hacked?"
The duke replied: "No one wants to have been phone hacked."
MGN is contesting his claim and has either denied or not admitted that articles about Harry being examined at the trial involved phone hacking or unlawful activity.
At the start of Harry's individual case on Monday, Mr Green said there was "simply no evidence capable of supporting the finding that the Duke of Sussex was hacked, let alone on a habitual basis", and that payment records used in the duke's claim "simply do not demonstrate unlawful conduct or knowledge thereof".
The duke's claim is being heard alongside three other representative claims during a trial which began last month and is due to last six to seven weeks.
The three other representative claimants are Michael Turner, known professionally as Michael Le Vell, best known for playing Kevin Webster in Coronation Street, actress Nikki Sanderson and comedian Paul Whitehouse's ex-wife Fiona Wightman.